Material with excellent heat and abraision resistance
Pursuit of functionality
Our subsidiary Toho Material Co., Ltd. manufactures potassium 6-titanate in various forms as its main product to be added to brake pads and other friction materials.
We also manufacture other titanates such as sodium 6-titanate and other high-performance products made by improving such titanates for specific applications and purposes of use.
These products are known as the TOFIX series and are used by many customers.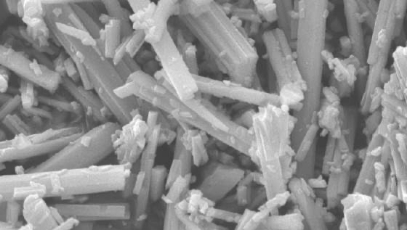 Features
Chemical composition

The chemical composition of TOFIX series is K2O・6TiO2, which has the highest heat resistance among potassium titanates.

High braking performance

TOFIX series has excellent abrasion resistance and stability of μ (coefficient of friction). TOFIX-SNR, in particular, is characterized by both high abrasion resistance and a high coefficient of friction.
Production process
Features

While the general production process for potassium titanate is a wet process, we use a completely dry process to achieve a consecutive process for the TOFIX series.

Environmentally friendly process

The TOFIX series is a completely dry process that generates no waste or effluent.
Specs
Product name
TOFIX-S
TOFIX-SNR
Chemical composition
K2O・6TiO2
K2O・6TiO2
Hue
White
Light yellow
Shape
Particle
Particle
Melting point (°C)
1300-1350
1300-1350
SEM photo
(500 times magnification)
SEM photo
(10,000 times magnification)
Specific surface area
(m2/g) BET method
1.8-2.8
2.0-3.0
Tap density (g/cm3)
0.85-1.20
0.90-1.30
D50 (μm) dynamic
imaging method
10-50
25-60
Moisture content (%)
≦0.7
≦0.7
pH
9~12
9~12
*TOFIX-S and SNR are registered under TSCA/US and REACH/EU.
The above products are just examples.
We also have a full lineup of products with other powder characteristics,
so please feel free to contact us for more information.
Toho Material Co., Ltd.
(Commissioned sales partner)
Atsushi Kubota, Chemicals Division, Morimura Bros., Inc.
Toranomon Towers Office, 4-1-28 Toranomon, Minato-ku,
Tokyo 105-8451, Japan
Company information on Toho Material Co., Ltd.