Learn about
Toho Titanium
in3minutes

1
Titanium metals are full of potential!
Titanium is a metal with a variety of excellent features.
Titanium is used in a broad range of fields, including the aerospace industry, consumer products, and healthcare.
Its history is still short, as the titanium refining method was put into practice in 1948. Accordingly, it is expected that titanium will be utilized in a broader range of fields based on its excellent features.
Features of titanium
High strength!

Its specific strength is about 2 times that of iron (common steel).

Lighter than iron

Its specific gravity is 4.51, which is about 60% of that of iron (common steel).

Corrosion resistance in seawater!

Highly resistant to corrosion in seawater

Beautiful appearance with its oxide film

By changing the thickness of its oxide film, it is possible to produce various colors (interference colors of light).

Harmless to humans

Highly biocompatible. The ion elusion amount is small, so allergic reactions rarely occur.
2
How is titanium
produced?
itanium metals are produced mostly through the "Kroll Process," which is a thermal reduction with magnesium. The Kroll Process is to make ore composed mainly of titanium oxide react with chlorine to produce titanium tetrachloride and reduce it with magnesium to obtain titanium metals. Its name is derived from Dr. Kroll, who developed this process in 1936.
Titanium manufacturing process (Kroll Process)
Titanium sponge

Titanium tetrachloride is reduced by utilizing the reduction action of magnesium, to produce titanium sponge. Our company produces high-quality titanium sponge with the "vacuum separation method."

Titanium ingot

A titanium ingot is composed mainly of titanium sponge. Our company manufactures a variety of ingots by using our "electron beam melting furnace (EB furnace)" and "vacuum consumable arc remelting furnace (VAR furnace)," which are some of the largest ones in the world.

High-purity titanium

Our company stably manufactures high-purity titanium with low oxygen level and high purity, by using a dedicated EB furnace. It is used mainly for sputtering targets for forming semiconductor films.
3
We apply the technology for producing titanium to various fields.
Application of the titanium production technology
By using the materials obtained through the titanium production process and related technologies, it is possible to manufacture high-purity titanium oxide for catalysts for polyolefin production and materials of electronic parts, ultra-fine nickel powder for multi-layer ceramic capacitors (MLCCs), etc.
We produce "catalysts" for plastics from titanium tetrachloride, which is obtained in the titanium production process.

We make the titanium oxide included in ore react with chlorine, to produce titanium tetrachloride. Chlorine is collected through the electrolysis of magnesium chloride, which is a by-product in the reduction and separation processes. In the subsequent distillation process, we reduce the amount of impurities to nearly zero.
TiO2+2Cl2+C→TiCl4+CO2

By applying the technologies for producing titanium tetrachloride and titanium, we manufacture "materials for electronic parts."

From titanium tetrachloride, we produce high-purity titanium oxide, which is used for electronic parts, such as multi-layer ceramic capacitors, PTC thermistors, and dielectric resonators. In addition, by applying the technology for producing titanium, we produce ultra-fine nickel powder, which is used for multi-layer ceramic capacitors.
Business description and final products
The Toho Titanium Group operates three businesses: "Titanium Business," "Catalysts Business," and "Chemicals Business," by utilizing titanium metals and raw materials obtained in the processes for producing titanium. We pursue the boundless possibilities of titanium and related technologies, contributing to the development of a sustainable society.
Titanium Metals
Business

Catalysts
Business

Chemicals
Business
Titanium that can be seen everywhere in our daily lives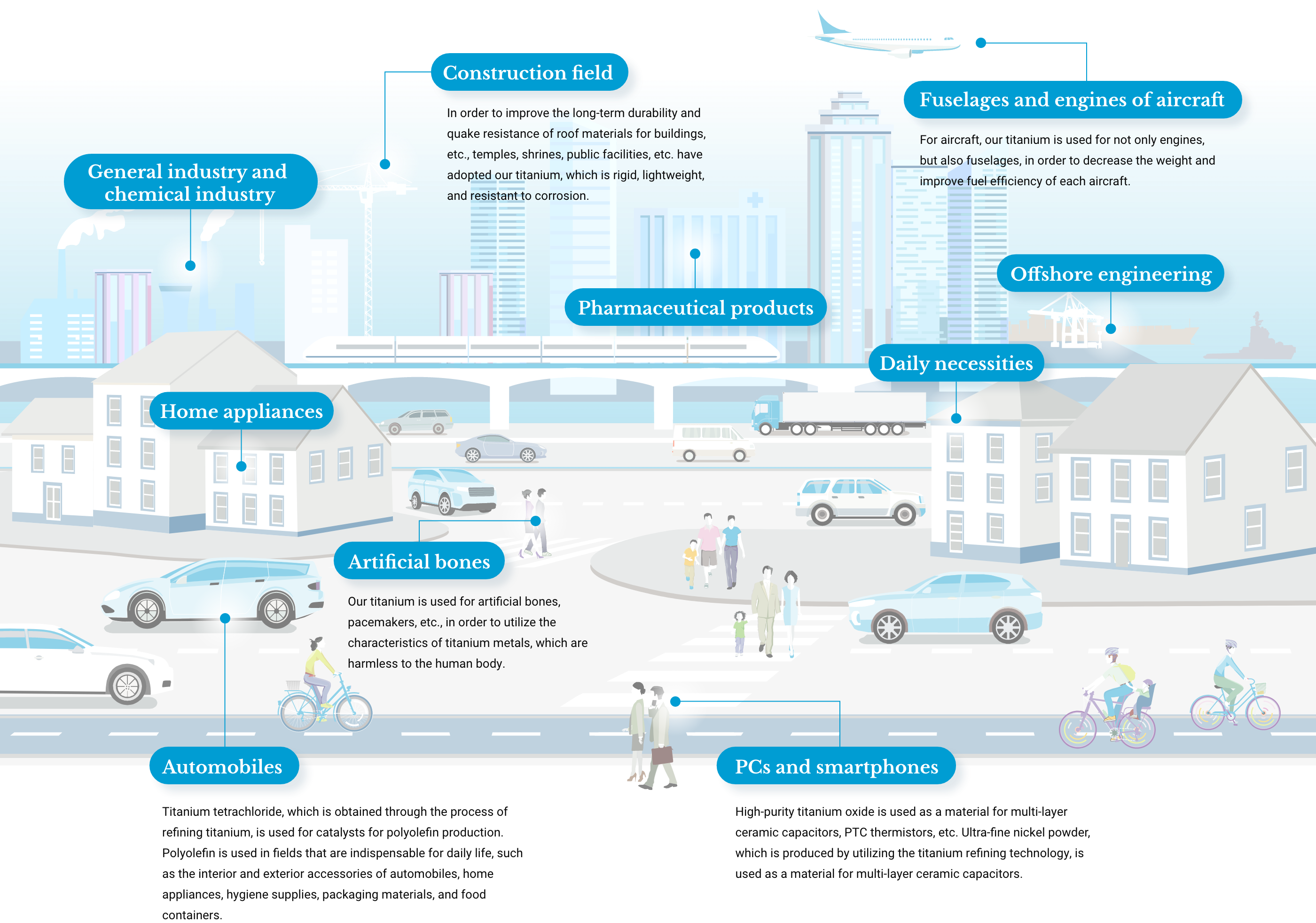 4
We conduct research for conserving the earth environment, by utilizing our titanium technologies.
The conservation of the earth environment and the response to climate change are global pressing issues.
Toho Titanium contributes to the actualization of a sustainable society, by utilizing titanium, which is the cutting-edge material in the 21st century, and related technologies.
Strengths of titanium for electric vehicles (EVs)
High-performance batteries improve the degree of freedom in use of generated electricity. As next-generation batteries, the most discussed ones are solid-state batteries based on solid-state electrolyte.
Our company focuses on lanthanum lithium titanate (LLTO), which is a solid-state electrolyte composed of titanate compounds and will continue development for putting the batteries for EVs and the collection of lithium from seawater into practice and solving problems.
Plate-like and tube-like LLTO
Titanium used also for hydrogen generators
Hydrogen is expected to reduce carbon dioxide (CO2) emissions. "WEBTi®-K," a porous titanium metal produced from our titanium powder, is a new material that has the characteristics of porous metal, such as liquid permeability and conductivity, and the strong points of titanium, such as corrosion resistance and strength. It can be utilized as a water-electrolysis hydrogen generator.
WEBTi®-K –porous titanium sheet–
Appearance
Surface (SEM)
With a new refining method, we contribute to a decarbonized society.
In the currently used Kroll Process, a huge amount of electricity is used when refining titanium metals, emitting CO2. Our company is developing an innovative method for producing titanium so as to reduce CO2 emissions considerably. We aim to realize carbon neutrality by 2050.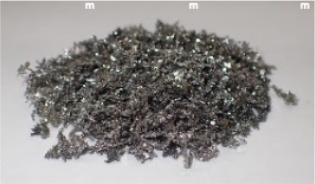 Titanium that has undergone electrolytic purification in the new process
5
Please let us introduce Toho Titanium, which keeps advancing technologies.
Titanium that is lightweight and has excellent features, including high strength, corrosion resistance, and biocompatibility. Our company will endeavor to find new business opportunities and expand our business domain based on our titanium-related technologies.
Toho Titanium represented by figures
Production amount of titanium metals

25,000


tons/year

(In Japan)

No. of employees of the Toho Titanium Group

About

1,100

(Inside and outside Japan)

Sales

80.4


billion yen

(FY2022)

Ratio of R&D costs to sales

About

3.0

%

(FY2022)