We realize homogeneous composition and stable quality with large-sized ingots.
Our titanium ingots (titanium metal products produced by melting and casting mainly titanium sponge) are broadly used by clients inside and outside Japan. We produce pure titanium ingots and alloy ingots. In particular, large-sized pure titanium ingots, which are produced through electron beam melting, contribute considerably to the improvements in product quality and productivity for each client, due to their homogeneous composition, stable quality, and supply of large-sized ingots.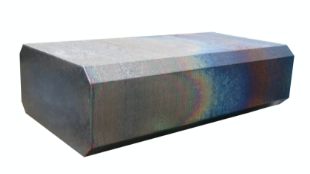 Purposes of use
Aerospace industry

Aircraft
Engine parts
Space rockets

Electric power industry and seawater desalination

Thermal and nuclear power plants
Seawater desalination plants

Chemical industry

Chemical plants
(pipes, heat exchangers, valves, etc.)

Offshore engineering

Ocean platform
Ships
Bridges
Equipment

Construction

Roofing
Curtain walls
Monument sites

Automobile and motorcycle industries

Medical care

Implants
Artificial bones
Welfare products

Sports goods and daily necessities

Golf clubs
Outdoor gear
Eyeglasses
Cameras
Wristwatches
Production process
Specs
Titanium metal – DC slab® and ingots
Category
Grade
Representative weight and size [mm]
DC slab®
CP
Gr.1/Gr.2
10tons
240tx1000~1300wxL
EB ingot
CP
Gr.1/Gr.2
24tons
850tx1100~1600wxL
Category
Grade
Representative weight and size [mm]
VAR ingot
CP
Gr.1/Gr.2/Gr.3/Gr.4
3.7tons
φ720xL
1.8トン
φ520xL
*The above table shows representative products only. We can provide other alloy ingots, too. Please consult with us individually.