A wide variety of titanium products with ultimate quality
The titanium metals we produce in the Titanium Business include titanium sponge and titanium ingots, which are produced by melting and casting titanium sponge. Titanium tetrachloride, the main raw material for titanium sponge, is produced by inducing the reaction between the raw material ore (composed of mainly titanium oxide) and chlorine.
01

High-quality titanium
Titanium sponge
Titanium sponge we produce has high titanium purity, so the amount of impurities can be controlled. Accordingly, it is used for aircraft parts, medical care, industrial equipment, and a broad range of other fields. The long-standing quality control of our products earned a high reputation among our customers around the world.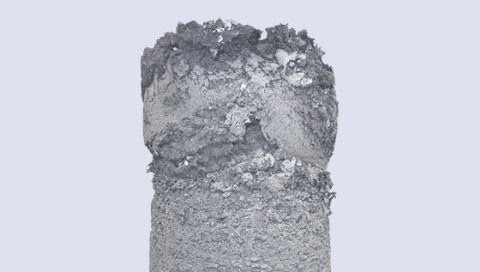 Titanium ingot
Titanium ingots are produced mainly from titanium sponge, using our world's largest "electron beam melting furnace (EB furnace)" and "vacuum consumable arc remelting furnace (VAR furnace)," and we can produce a wide variety of ingot products according to our customers' needs, such as square-shaped EB ingots and round-shaped VAR ingots.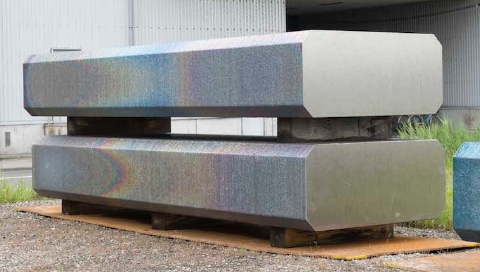 High-purity titanium
We provide high-purity titanium, produced by melting high-purity titanium sponge with an extremely high level of titanium purity in a dedicated EB furnace. It is used for a material of sputtering targets for forming semiconductor films.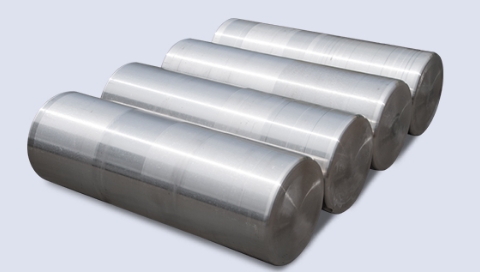 02

From leading-edge industries to consumer products

Our titanium is used for engine components and structural materials designed for light-weight aircraft frames in the aerospace industry. Technical requirements set by aircraft manufacturers are high, and to satisfy the requirements, we must constantly produce and supply high-quality materials from the first delivery of products and over a long period of time.
We have been achieving this "absolute stable quality" requirement in the aerospace industry for a long term, and this is why we continue to be the leading expert among titanium manufacturers.

Our provision of stable and high-quality titanium materials for semiconductors, automobiles, marine structures, power plants, construction, medical care, and consumer products has been satisfying our customers' needs, winning a high level of trust from them.
[Photograph provided by] ANAA
Titanium is being applied
in a broader range of fieldsFor more information
03

Kroll Process + our unique production method

We produce titanium metals mainly using the "Kroll Process," combined with our own technologies.
Titanium tetrachloride producing process
We make the titanium oxide included in ore react with chlorine, to produce titanium tetrachloride. Chlorine is collected through the electrolysis of magnesium chloride, which is a by-product in the reduction and separation processes. In the subsequent distillation process, we reduce the amount of impurities to nearly zero.
TiO2+2Cl2+C→TiCl4+CO2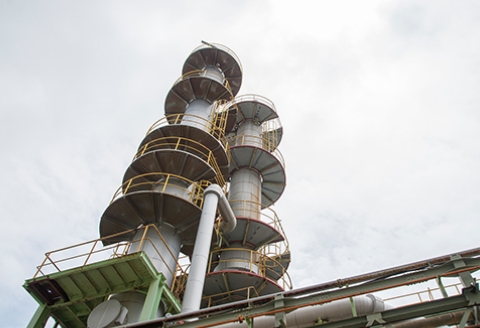 Production process
Reduction and separation process
Porous titanium sponge lumps are produced by inducing a reaction between purified titanium tetrachloride and molten magnesium, and then magnesium metal and magnesium chloride in the titanium sponge are removed through the vacuum separation method to produce high-quality titanium sponge.
TiCl4+2Mg→Ti+2MgCl2
Wakamatsu Plant
Melting process
Titanium sponge and recycled materials are melted and refined in a vacuum using the electron beam melting furnace (EB furnace) or vacuum consumable arc remelting furnace (VAR furnace), and casted with water-cooled copper molds to make ingots.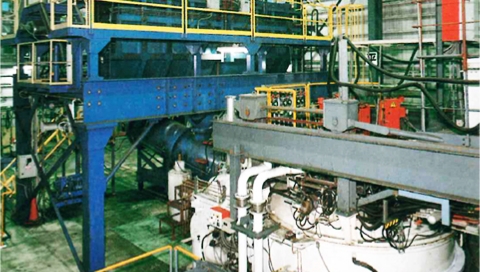 The titanium sponge produced through the titanium tetrachloride producing process and the reduction and separation process is melted in a vacuum to be made into titanium ingots.
We tailor-make fabricated titanium products after receiving orders from customers.
In addition, this ingot can be processed into various expansile materials such as sheets, bars, tubes, and wire rods, through the processes of rolling and casting, according to the usage and purpose of the materials and products.
We supply titanium ingots to expansile material manufacturers, and our group company Toho Technical Service tailor-makes various fabricated titanium products after receiving orders. Toho Technical Service's technologies for processing, welding, and fine-coloring through anodic oxidation (surface treatment technology) have an established reputation. The company receives challenging orders for processing from various areas, and continues to produce innovative results.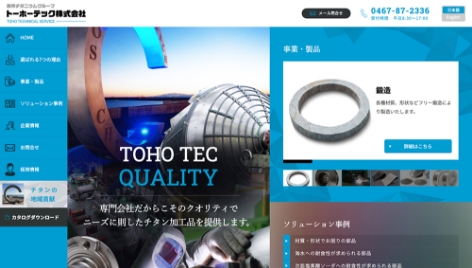 Click here for more information on fabricated titanium products (Toho Technical Service).
04

Overseas business development through joint-venture
Joint venture for titanium sponge production in the Kingdom of Saudi Arabia
In January 2014, we agreed to build and operate a company to produce and sell titanium sponge in the Kingdom of Saudi Arabia through a joint venture with the National Titanium Dioxide Company Limited (Cristal), Saudi Arabia's global titanium oxide manufacturer, and its parent company: the National Industrialization Company (Tasnee). In December 2014, we signed a joint-venture agreement with Advanced Metal Industries Cluster Company Limited (AMIC), an investment company equally invested in by Cristal and Tasnee, and established a new company for this joint-venture project in February 2016.
This new company completed the construction of a new titanium sponge production plant in Yanbu Industrial City, the Kingdom of Saudi Arabia, in May 2017, which successfully completed the first batch of reduction and separation test with actual machines in August 2018, and then started its operation in September 2019.
This plant plans to produce titanium sponge using titanium tetrachloride as the raw material which is constantly supplied from a titanium oxide plant adjacent to it, and it is expected to have globally unbeatable cost-competitiveness by leveraging the advanced technology we provide as well as low electric power cost in the country.
Titanium sponge plant
Reduction and separation test (first test batch)
Overseas direct sales system
We sell products to overseas customers through our overseas sales subsidiary Toho Titanium America Co., Ltd. We can satisfy our customers' needs through direct communication with them.
Inquiry about our Titanium Business